Cannondale CAAD 12 Road Bike – 2 Days Hire
Our 2018 model CAAD12 105 is an exceptionally lightweight road bike made from an aluminium alloy which is both extremely lightweight and very strong. The CAAD12 is a racing pedigree bike and is built more for speed than touring, although it is a very comfortable bike to ride over distance. It has rim brakes rather than the disc brakes that the Synapse has, which helps save overall weight.
The spec on the CAAD12 is precisely as mentioned below except for the tyres, which we change after each tour, and the gearing. The tyres we use will either be 25mm or 28mm and be Gatorskins or very similar. The CAAD12 also comes fitted with an 11-28 as standard but we have fitted a Shimano 105 11-32 cassette to the bike to give the rider an extra spinning gear to aid with hill climbing. Other than these two things, the specifications for the CAAD 12 hire bikes is as shown in the image below.
The bike also comes fitted with 2 x water bottle holders (bottles not provided), small saddlebag with spare innertube, tyre levers, pump attached to the frame, speedometer and lights. We can also provide a map holder and helmet if required.
Click on the below images to enlarge
                      Specifications                                                                                                                                                                                                                                         
                      Size Chart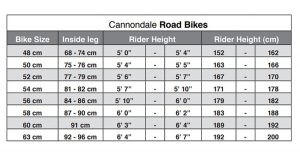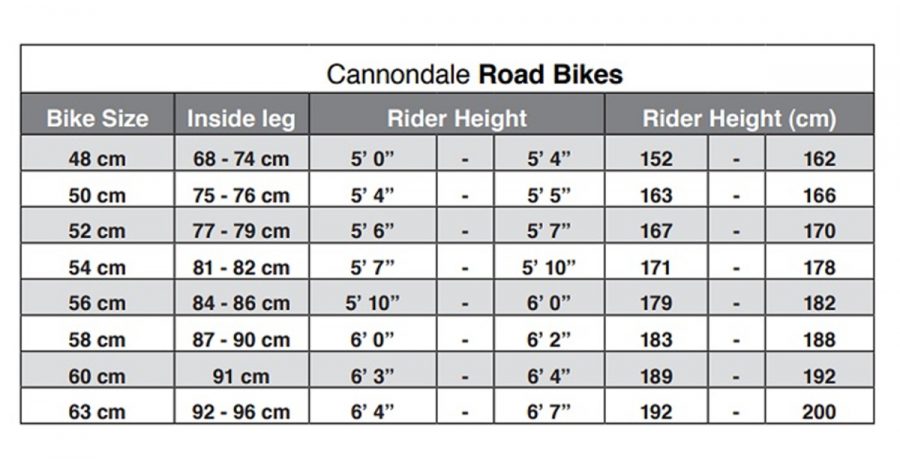 £80.00