Cannondale Synapse Road Bike – 3 Days Hire
The 2022 Cannondale Synapse 1 road bike has SmartForm C2 Alloy construction and full carbon forks deliver exceptionally light weight for this category for a high-performance feel.
A road bike that's light, stiff, fast and surprisingly comfortable.
We have been using bikes from the Cannondale Synpase range as hire bikes for several years now and found them to be as reliable as they are comfortable to ride! Many happy tour miles have been completed using the Synapse model and we have a brand new fleet of bikes for 2023 which are fully fettled and ready to go!
The spec on the Synapse 1 is precisely as mentioned below except for the tyres, which we change after each tour. The tyres we use will either be 28mm or 32mm and be Gatorskins or very similar.
The bike also comes fitted with 2 x water bottle holders (bottles not included), Small saddlebag with spare innertube, tyre levers, pump attached to the frame, speedometer and lights. We can also provide a map holder and helmet if required.
Click on the below images to enlarge
                      Specifications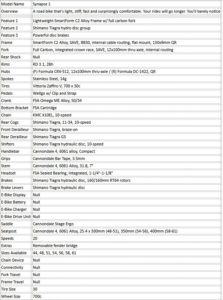 Size Chart