We have a number of cycling holidays in the United Kingdom.
We have been operating our Land's End to John O'Groats tours since 2010 and this tour can be done in 14 days or the challenging 10 day option. Our Dover to Durness tour route is the opposite two corners to the Land's End to John O'Groats tour and our Scottish end to end is just the Scottish section of the Dover to Durness route. This route is along the stunning West Coast of Scotland and also visits the Isles of Arran, Mull and Skye. The Highland 500 is our most northerly tour and includes the famous climb at Bealach na Ba which is the greatest ascent of any road in the UK. Whichever tour you chose you can be sure to see some of the country's most spectacular and awe inspiring scenery.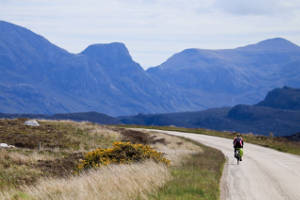 We also have a number of routes across the UK from the Irish sea in the west to the North Sea in the east. Our Coast to coast, Way of the Roses and Hadrian's Cycleway tours can be completed in 2 – 4 days. All of our end to end and coast to coast tours are fully supported with back up vans, guides etc but we also have a number of self led cycling holidays in the Peak District National Park.
With all of our supported tours our friendly, informative and knowledgeable guides will be on hand to help with any requests you may have, day or night. Our legendary "magic van" will be gleaming like a beacon on the horizon (usually at the top of a hill!), ready to serve you with hot and cold drinks and all manner of refreshments. Your luggage will be transported for you to your accommodation, and all your lunches and snacks taken care of. All you need to think about is pedalling, enjoying the scenery, having a laugh with like-minded people and what you will have to eat in the evening!

If you have any mechanical issues, there will always be a guide with a good level of bike knowledge who will be able to fix most working problems. If it is a bit of a head scratcher then we will get you on one of our spare bikes and get your steed to a local bike shop or source a part we may need to fix it. The support vans will have a reasonable amount of spares on them too.
We provide detailed route notes that correspond to your mile-o-meter which also have all the practical and safety information you need for the day. The guide will also give a brief in the morning and give a run down of anything to keep in mind for that day, they may also tell a few bad jokes too! We also provide TCX or GPX files if you are using a navigation device. Navigation devices and cycles can also be hired from us if you would like.
If you are unsure of what to do with your bike, if you can get it to Glossop in Derbyshire we will happily take it and bring it back for you free of charge. We can also arrange for your bike to be couriered to you at the end of the tour.
We are extremely proud of our returning customer base who are more like friends by now. Peak Tours a small company that is growing and we would like to grow the right way, retaining the friendly feel and approachability that has stood us in good stead thus far.